I actually designed this as a type of healing spell for my husband, whose ADD is becoming problematic with his career.
Deities:
Lord and Lady
Athena (wisdom)
Mnemosyne (memory, mother of the Greek muses)
Quarters
Materials:
Representation for the four quarters
Pillar candle for Lord and Lady
Votive candle for Athena
Olive oil (about a teaspoon or so) and a shallow dish (big enough to set the votive in)
A candle for Mnemosyne (I used a blue taper)
Peppermint oil
Athame (or tool of your choice - I chose my athame for the "sharpness" aspect)
Blue cord or string (about 12 inches - wisdom)
White cord or string (about 12 inches - clarity)
An unfired bullet (best for it to be fairly large so it is easier to handle, but don't go crazy - shotgun shells have a lot of plastic and are imprecise. Rifle rounds might be good if you have any.)
Dried sage (I just used a few leaves, but a smudge bundle works too - does not need to burn long)
Thin wire
Wire cutters and needle-nosed pliers (or just the pliers if they have a wire cutter as well - many do)
Work:
Cleanse and consecrate your space and materials (here is how I do it)
Cast your circle, beginning in the east (I walked mine thrice)
Beginning in the east (air = wisdom), call the quarters (I walked the circle with my elements)
Invoke Lord and Lady (light their candle)
Dress Athena's candle with a few drops of olive oil. Pour a little olive oil into your shallow dish and set the candle directly into the oil.
Invoke Athena - light her candle.
Dress Mnemosyne's candle in peppermint oil for focus and clarity (WARNING: peppermint oil can be irritating to the skin, avoid directly touching it - I used a dropper)
Invoke Mnemosyne - light her candle.
Clearly and concisely state your purpose (flowery language is not necessary; I said something to the effect of, "I do this work for my husband who is in need of greater mental focus, clarity, and memory, and an increased ability to access his wisdom.")
Ask your Helpers to bless and empower the bullet.
Snip a length of wire about 8-12 inches long. Hold the wire at roughly the middle and wrap it in the groove just at the base of the bullet casing (the flat end, where the firing pin hits) and twist it to secure it. Pull tight. Wrap the wire down the bullet in a crisscross pattern (like you're lacing up ballet shoes or lace-up sandals). Pull tight when you get to the rounded end, twist once, and go back up the same way. There should be a small loop where you first twisted the wire - feed one end through, and twist them together all the way, snipping off whatever is uneven. Loop that twisted stem you just made back down to the flat end of the bullet and twist it (may need pliers) so now you have a loop you can put the string through.
Slide both strings through the loop you just made, tying a knot around the wire loop in the middle of the strings. Tie the ends together at the top and trim the ends.
Carefully light your safe from any of your candles and let the talisman hang in the smoke like a pendulum. You should still be visualizing your intentions through all of this.
When the sage burns out (or your arms get tired), set the sage aside in a safe container so you don't burn the place down. Lay the talisman on your altar and ask again for blessings.
Thank and release Helpers in the reverse order in which you called them (i.e., Mnemosyne, Athena, Lord and Lady, Earth, Water, Fire, Air).
Open your circle with your chosen tool, and put the energy you collect into the bullet. 
The talisman should go wherever you feel it will do you the most good - like a study or work area.
Alternatively, if a bullet is just not feasible (not everyone is a gun-nut like me) you could use a sharp stone/crystal or small pocket knife. The item should work for you and make you think of precision and sharpness.
This spell is not the best way to find an actual, live familiar. There is quite a bit of fire involved. You can use this to call spirit guides or guardians to you, or to commune deeply with them. This is best done at night and/or during a heavy rain storm as it is easier for spirits to cross into our plane.
Materials:
Large white sheet/blanket/towel/tablecloth
Seven tea light or votive candles (and appropriate holders or plates)
Small bowl
An odd number of different kinds of herbs or flowers. At least one should match the current zodiac sign (more on this at a later date), rosemary (for women) or sage (for men) or both, and something that feels very personal to you (like lavender or roses… a favorite scent maybe)
Salt (preferably sea salt)
straight-backed chair (optional)
The Work:
I suggest taking a shower or bath first, to cleanse your body and mind.
Cleanse and consecrate your items
Spread your white cloth on the floor. If you are using a chair, place it in the center
Set out your seven small candles in a circle around the chair, leaving enough room to walk around
Cast a circle around the set up. I HIGHLY recommend walking your circle three times at MINIMUM (careful conjuring)
Mix the herbs and salt in the bowl with your fingers or athame/wand. Feel their power, trust that it is there.
Sprinkle your herb/salt mixture on the sheet around the chair (or the center) in a circle (deosil)
Sit with your back straight (good posture) and close your eyes. Tell the Lord and Lady what you are doing (i.e., "Holy Mother, Divine Father. I am your daughter/son. Please help me find my spirit guide.")
Focus on your breathing and heart beat, clear your mind (this is meditating). If you have a mental image of a sacred place this is the time to bring it up. Feel yourself supported by the chair or the ground. Drift. Let your mind, heart, and spirit be open. If stray thoughts come to mind, acknowledge them and let them go. Focus on your breathing again.
Once calm, call to your guardian or spirit guide (even if you haven't met them yet). "I am (your name or pagan name) and I call upon my guardian. Guardian, come to me, make yourself know."
Eventually you will get the (creepy at first) feeling that you are not alone anymore. Now is the time to thank your guardian for coming and ask your question (out loud). If this is the first time they've come to you, ask their name, ask who or what they are. Whatever comes to mind is correct, as long as you are still in that very relaxed and open state.
When you feel finished, thank your guardian and release him or her "Thank you— leave if you must but please stay if you like."
Slowly allow yourself to become aware of the world around you. Focus on your breathing again, then maybe the sound of the air conditioner or crickets, then the flicker of the candlelight, and so on, until your eyes are open and you are alert.
Thank the Lord and Lady, open your circle, and snuff your candles.
Carefully pick up the herbs and salt in the cloth so you don't make a mess. You can scatter them outside or keep them if you wish. I only recommend keeping dried herbs/flowers in a jar or ziploc baggie.
I've only tried this once to commune with my primary guardian and it worked pretty well, though I admit I was not as deep in the meditation as I would have liked. Let me know how this works for you!!
[EDIT: Sorry, I have no idea why some of these pics are so huge!]
Here is an excellent spell for the new moon tomorrow night. It can also be done on a day that is not the new moon if you are really in dire need of money. Remember some basic rules of money magick: don't talk about it when you do spells for money; change your buying habits to match your intent; work harder. Remember that magick—like prayer—is never a substitute for working towards your goals.
Timing:New moon, or when you really need the money. Good to be done during the day, as the sun and the God are for manifesting concrete things (although it probably doesn't matter).
Deities:
The Lord and Lady
Mercury
Mars
Demeter
Nike 
Guardians/ancestors are also a good idea
Cardinals:
Colors:
White, green, silver, red (bright)
Herbs:
Mint
Cinnamon (stick or incense)
Cloves
Other Materials:
Silver or gold pen
Black paper
Appropriately-colored string or cord (3-4 feet)
Candles (for deities, appropriately colored)
An odd number of small stones or pebbles
A coin or three (I used a large dollar coin)
Representations of Quarters
Anointing oil (optional)
Small cloth bag (optional)
The Work:
Ground yourself
Cleanse and consecrate all items
Cast your circle (I highly recommend walking your circle three times, deosil)
Call Quarters (beginning with Earth; I used a daub of anointing oil on my representations as I invited them in).
Invoke Lord and Lady
Invoke other deities
Invite Guardians and/or ancestors if desired (recommended)
Using the silver or gold pen, draw the symbol for Earth on one side of the paper
Draw the symbol for Mercury on the other                                                
Write your SPECIFIC financial goal under each symbol
Meditate on your purpose; knot your cords together, tying a knot every few inches, repeating your goal as you go (So one repetition per knot).
When finished, wrap your herbs, coins, pebbles, etc, in the black paper and tie securely with the string you just knotted. Keep until the new moon or until you have reached your goal. Carry it with you (in your purse or in a pocket if it's small enough).
SO MOTE IT BE
Thank and release guardians/ancestors, deities, Lord and Lady, and Quarters.
Open your circle, putting that energy into the items you'll be carrying with you (easiest with a wand or athame).
At the new moon (or when you've reached your goal), burn the herbs and paper and scatter off your property. Carefully and thoroughly cleanse your other items to rework the spell.
I wrapped my herbs in the paper and tied it off, then made a small cloth bag to keep my non-disposables in, tying both together and keeping it my purse.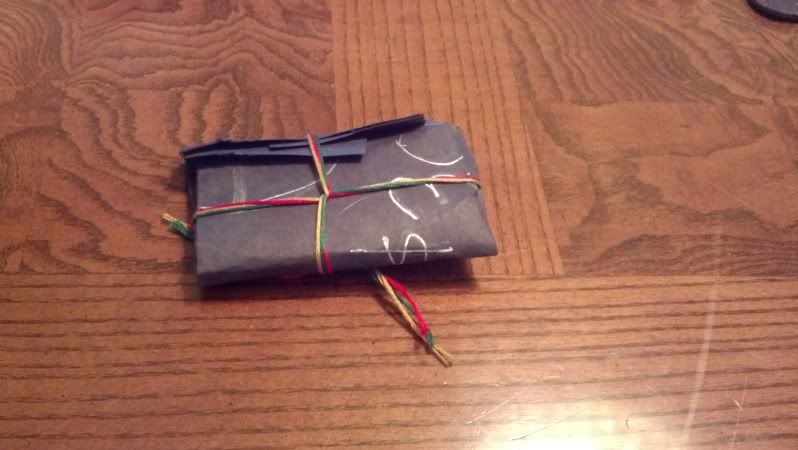 Paper bundle holding my herbs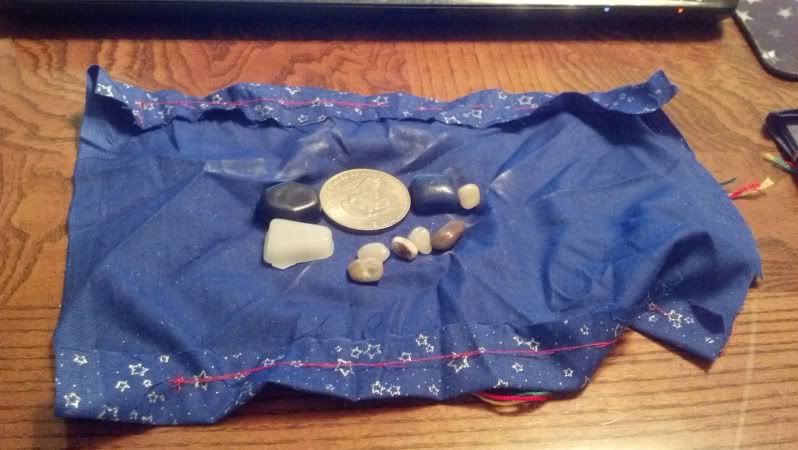 Simple bag I made for my other items